SportRisk Resources
The

SPORTRISK

RISK MANAGEMENT PLANNING RESOURCE

$39.00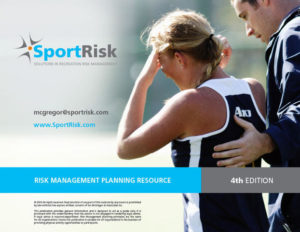 Available as digital copy.
Downloadable and printable
Easy navigation throughout text
Multiple live links to additional resources
Improved and expanded sections on Sport Clubs, Camps, Risk Profile, Risk Management Committee – and more!
Downloadable forms and checklists
In today's litigious society, can you afford not to have this book?

Still not convinced? Have a look at the table of contents.
4th Edition of 'SportRisk' Manual (Electronic Copy)